Your Dreams, Our Challenge
Development of glass compositions
Glass compositions are infinity. One of our core technologies is a glass designing capability for various applications.
Glass plays important role in our daily lives. We have many opportunities to interact with glass as familiar products: buildings, cars, TVs and smartphones.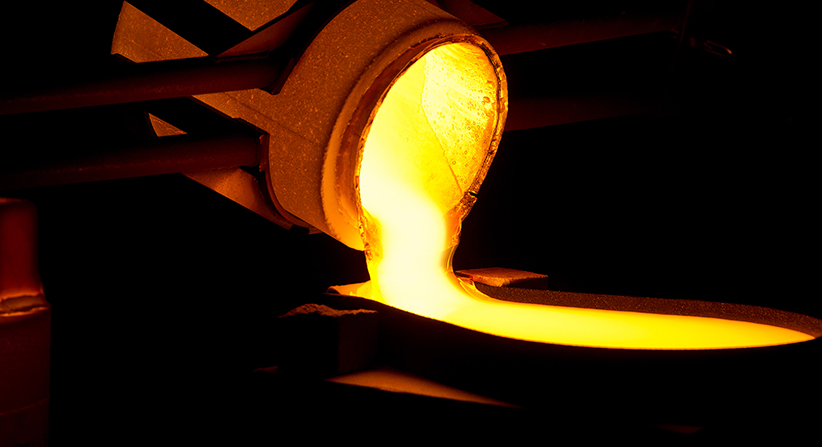 Glass is basically known to be a transparent material. On the other hand, apart from transparency, glass has many other properties that can be extracted to make it a truly multifunctional material. For example, by adding a transition metal ion into the "transparent" glass, light in the near infrared region can be absorbed and shielded. Such glass is used to an optical filter for CCD and CMOS image sensors which are used in digital camera. Also, new function of glass can be derived from strength, refractive index, dielectric and magnetic properties and so on. As a pioneer of specialty glass, we are enthusiastic about developing highly-functional glass. Recently, it requires both extremely high function and quality and is in the struggle against competitors and other materials. We have many glass melting furnaces depending on the intended use so that we can develop differentiated glass ahead of the competitors. In addition, our technical division includes melting, forming, machining, coating and analyzing division which support our core technologies about designing the glass composition. We always think of failure as being "new discovery" and enjoy searching for new possibilities of glass by utilizing the knowledge about specialty glass cultivated over many years.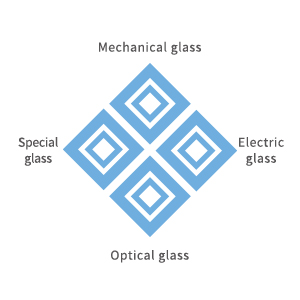 Glass melting and forming technology
Glass can be any shape. One of the our core technologes is a variety of glass melting and forming technologies tailored to the application.
Glass is a very attractive material that can be formed into various shapes depending on the applications.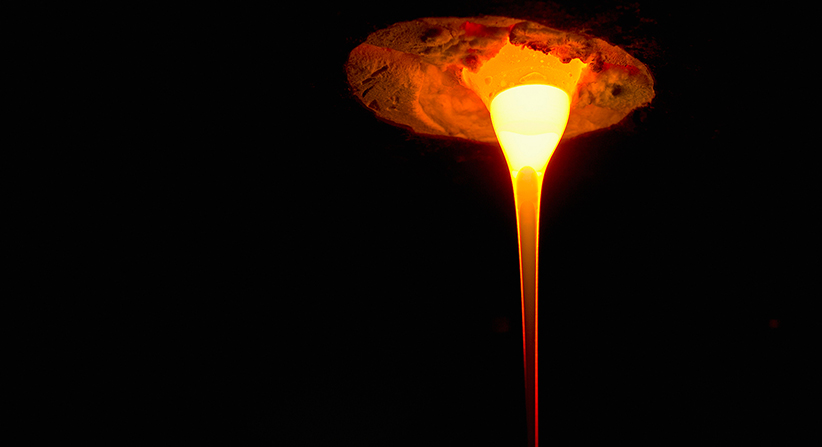 The main ingredients are sand and other minerals. As they are mixed well and thrown into a high-temperature furnace above 1000 ° C, some chemical reactions occur and they become liquefied glass containing a lot of inhomogeneous and fine bubbles. Our target market such as precice electronics compornent cannot accep for tiny defect like micro bubbles in the glass. Therefore we create a more uniform and bubble-free high quality glass by controlling the chemical reactions and heat transfer with combining the optimal heating technology suitable for a variety of glass. We also full use these technologies to build production processes with low environmental impact. Liquefied glass is becoming harder like syrup as glass temperature is going down. The soft glass like syrup can be made into various shapes by cooling and controlling like candy work. For examples, They become a glass tube such as a fluorescent tube when pulled from a hollow circular state, a glass rod used for post-processing when pulled from a round state, a sheet glass when cooled in a sheet form. They also become a glass coffee pot when blown into a mold. The shape can be adjusted freely like this. The core technology of forming is the ability to develop mechanical equipment that can be established by constructing advanced processes.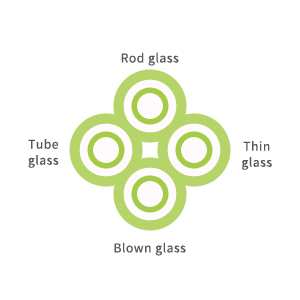 Machining technology
After Glass forming, we can make them into our own desired shapes and surface conditions. That is also one of our core technology.
After forming, the shape of the glass can be changed or specially processed according to the application.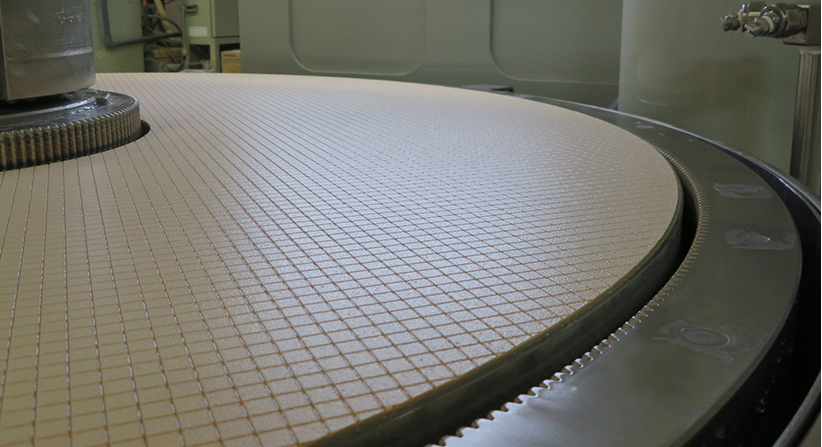 General household products such as glass tableware are often used without processing molded products, but when used for precision components such as electronic components and semiconductor components, special and precise processing are required. Futhermore, high precision dimensions and surface properties are required for electronic circuit design and component combinations. In particular, when used on wafers and panels that utilize semiconductor processes, the glass thickness must be thin, uniform, extremely smooth and flat, depending on the application. In addition, the processing technology required to realize them has been studied for many years, and is born by fusing newly developed technologies with accumulated technologies. Furthermore, recently, processing technologies that bring added value such as micromachining and precision cleaning have become increasingly important.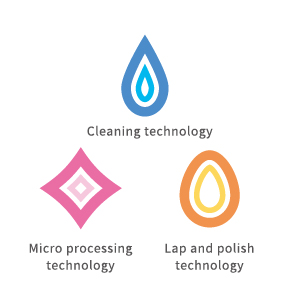 Thin film coating technology
Deposition of optical glass and optical film according to applications is one of the ATG's core technologes
One of our product is optical glass filters with various optical properties by using multilayer coating technology on the front and back surface of special glass and film.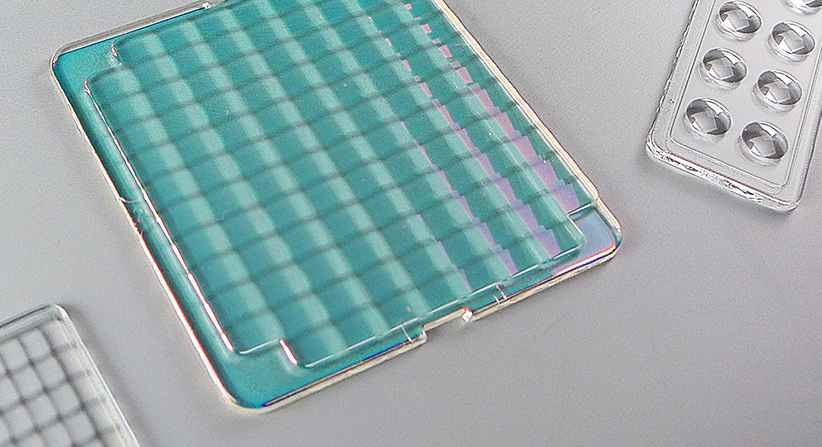 For example, by matching the light entering the CCD and CMOS sensors used in imaging devices to human visual sensitivity characteristics, it is possible to express the hue more vividly. In addition, a multilayer coating coat that reduces the reflectivity of the surface increases the transmittance of the product, which increases the light entering the sensor and reduces signal noise. Optical multilayer films that manipulate this color tone and color can be combined and applied in a wide range of applications in the AGC group. As the number of pixels in the sensor increase, the size per pixel becomes very small. If there is a micrometer order defect on the optical axis that enters the sensor from the outside, performance will fall significantly. Therefore, glass filters must meet strict defect standards.We have cleaning technology that can match with defects in this micrometer order. Clean coating technology to suppress the dust of the coat, and the process of coating, inspection, and product packing can be carried out in a clean room that is always kept to a certain or higher cleanness. Optical design technology performed throughout the AGC Group, clean technology that can handle micrometer orders, and film formation technology that combines these technologies are our core technologies.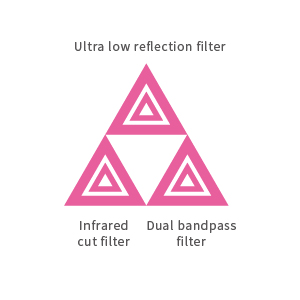 Resin molding and fabrication technology
The Resin Injection Molding and Microfabrication of Cell Culture Vessels
We also develop and manufacture cell culture vessels. Cell culture means artificially growing cells derived from a human or animal body.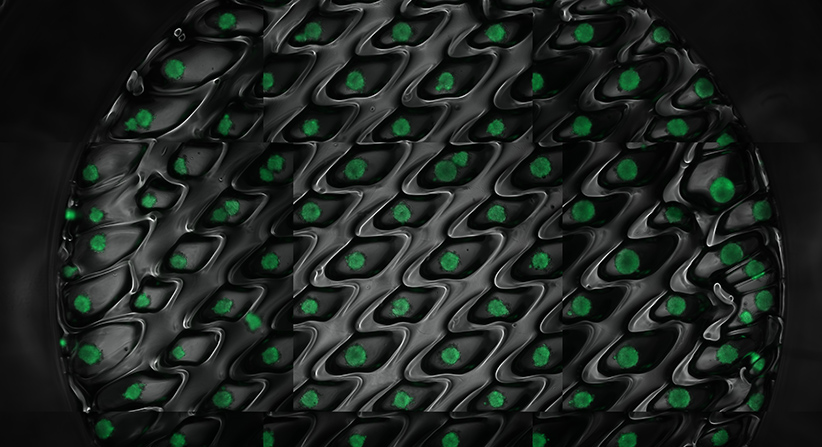 It is powerful a tool for discovering basics of life science and developing new drugs such as anticancer drugs. To grow cells effectively and stably, a cell culture vessel plays important roles. Resin injection molding technology, microfabrication technology, and special polymer surface coating technology is our core technologies to develop cell culture vessels. Traditionally cell culture is 2D. But now, the world of cell culture is 3D. Large amount, high-efficiency, and robust 3D culture vessels are needed for latest research of regenerative medicine, cell therapy and innovative drug development. However, manipulating cells is difficult in 3D culture. Additionally, low cell adhesion polymer which is coated on the surface of a 3D culture vessel has a problem that is slightly soluble in culture medium. To solve them, we developed a microfabricated 3D culture vessel which is coated AGC group's original polymer. A lot of micro-wells is microfabricated in this vessel and a large amount of cell can be cultured easily. And fortunately, we could find a coating agent from library of AGC groups polymers that is familiar with cells and insoluble. In this way, our core technology and AGC Group's assets is used in our cell culture vessels and contribute to life science.